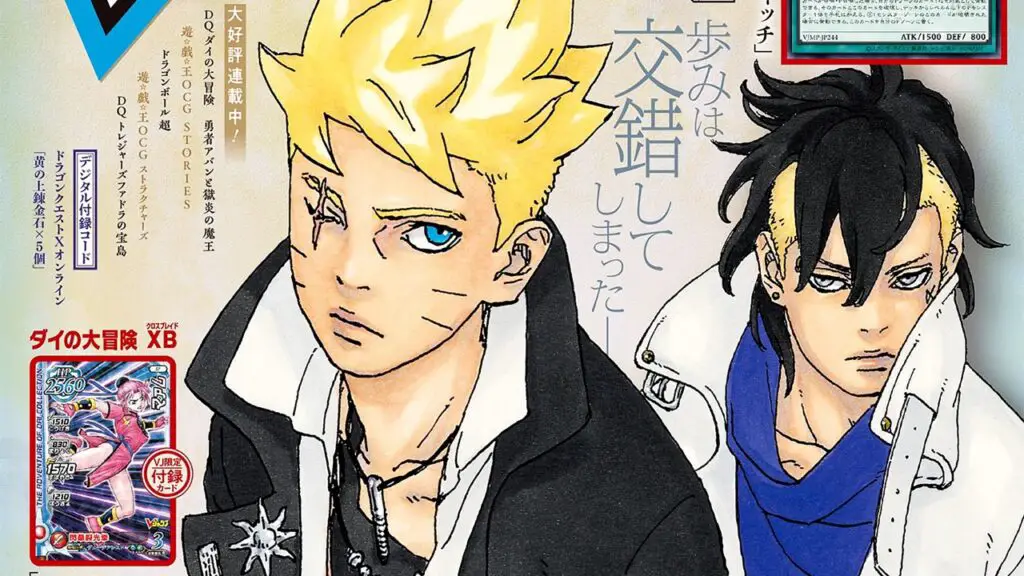 The Naruto universe has captivated fans for years, and "Boruto: Naruto Next Generations" continues to keep the legacy alive. With each new chapter, the story becomes more intense and engaging. As we eagerly await the official release of Boruto Chapter 83 on October 19, 2023, thrilling spoilers have already surfaced on the internet, giving us a sneak peek into the upcoming developments.
Boruto Chapter 83: Uzuhiko
The latest chapter, titled "Uzuhiko," picks up right where Chapter 82 left off, and it promises to be a rollercoaster ride for fans. The cover of Boruto Chapter 83 showcases Himawari Uzumaki, hinting at her potential involvement in the unfolding events.
Chapter 82 concluded with Boruto unveiling a groundbreaking Rasengan variant, leaving fans on the edge of their seats. Boruto Chapter 83 takes this intense encounter to the next level. Boruto is closing in on Code, armed with his newfound technique, while Code, in a bold move, attempts to restrict Boruto's movements.
Code's words are laced with determination as he challenges Boruto, emphasizing that the attack is meaningless if it doesn't land. To everyone's surprise, Boruto's technique starts wrapping around Code, creating a bizarre connection.
The wind rotation and circles that characterized Boruto's Rasengan are now visible on Code's left arm. Boruto issues a final warning, setting the stakes high – he will kill Code if he doesn't lead him to the Ten Tails. Code, in his characteristic fashion, dares Boruto to follow through.
In a shocking turn of events, Code's attacks miss Boruto, who appears to be effortlessly dodging. The perplexed Code fails to comprehend how Boruto is eluding his blows. But it's a momentary confusion. Boruto strikes Code with his new technique, "Rasengan: Uzuhiko." This attack implants chakra equivalent to the rotation of a star into Code, fundamentally altering the dynamics of the battle.
Just when the situation seems dire for Code, Kawaki makes his entrance. Code attempts to escape, but Kawaki uses his dojutsu to foil Code's getaway plan. In a last-ditch effort, Code summons a creature to facilitate his escape, setting the stage for even more dramatic confrontations.
As Code escapes, Shikamaru advises everyone to shift their focus to the rest of Code's army. However, Kawaki has other plans. Despite his harsh words, Boruto extends a warm greeting to Kawaki, expressing his relief that Kawaki seems to be doing well.
In a strategic move, Boruto implants a toad on Code, enabling active communication to determine if the Ten Tails has been located. The suspense builds as fans eagerly anticipate the revelation of the Ten Tails' whereabouts.
On the last page of this action-packed chapter, the toad implanted by Boruto confirms the sighting of the Ten Tails. It's been three years since we last glimpsed the Ten Tails, and Code has depleted all of its chakra. The stakes are higher than ever, and Boruto appears unfazed in the face of this formidable adversary.
How to Read Boruto Chapter 83
Fans can look forward to reading Boruto Manga Chapter 83 directly on the official site of their primary distributor, Viz Media, and on the Manga Plus app with English translations upon its official release.
"Boruto: Naruto Next Generations" is a Japanese manga series written by Ukyō Kodachi and Masashi Kishimoto, with Mikio Ikemoto providing the illustrations. The series initially started its monthly serialization as "Boruto: Naruto Next Generations," with Kodachi as the writer and Kishimoto overseeing the project. It continues to captivate audiences with its riveting storyline and compelling characters.