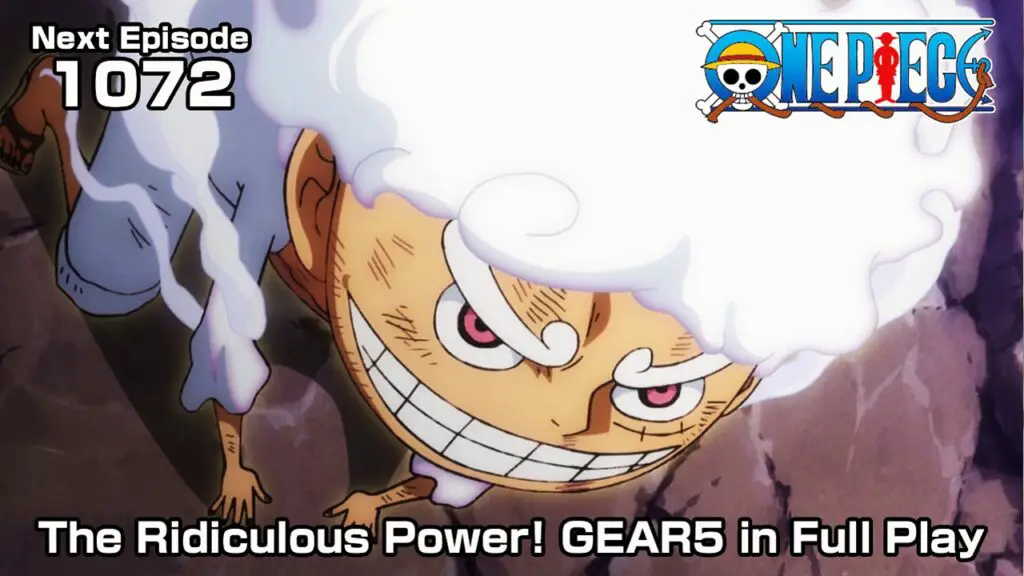 "One Piece" fans around the world are buzzing with excitement as One Piece Episode 1071 takes the anime community by storm. With multiple websites, including Crunchyroll, crashing due to the overwhelming demand, it's evident that this episode has truly broken the internet.
Trending at number 1 on Twitter both in Japan and worldwide, the latest installment has left fans eager for more. As the epic story continues, Episode 1071 provides an action-packed and thrilling adventure, setting the stage for the highly anticipated One Piece Episode 1072, titled "Ridiculous Power! Revival Of Gear 5."
One Piece Episode 1071 Recap
The episode picks up where it left off, with Luffy in the midst of transforming and Zunisha announcing to Momonosuke that JoyBoy is back. Lightning shoots out of Luffy's body, and his chest is pounding. Surprisingly, Luffy gets up and realizes he's still alive. Overwhelmed with happiness, he starts laughing and jumping up and down. The ground bounces like rubber, and his body becomes super elastic.
The scene shifts to the Gorosei, who discuss their long hunt for the Gum Gum Fruit, spanning over 800 years but never getting the chance. They also reveal the other name of the fruit: Human Human Fruit Model: Nika. The previous wielder of the fruit was a god known as Nika The Sun God, or the Liberation Warrior, who fought with freedom and absolute strength.
Luffy causes a commotion, and the other StrawHats hear him, realizing he's not dead, which brings them joy. Using his Conquerors Haki, Luffy knocks out the Animal Pirates and pulls Kaido out of the Main Floor and back outside. He dominates Kaido while toying around with him. The animation in the episode is extremely goofy and cartoonish, adding to the appeal of Gear 5.
Luffy now possesses the power to turn objects into rubber. He reflects a Blast Breath back at Kaido, giving him a taste of his own medicine. Kaido is thrilled to have the chance to properly defeat Luffy, and Luffy is equally excited for the confrontation.
The episode concludes with Luffy and Kaido staring each other down, ready to fight.
One Piece Episode 1072 Details
The excitement continues to build as fans await One Piece Episode 1072, "Ridiculous Power! Revival Of Gear 5." Scheduled to air on August 13, 2023, at 9:30 AM in Japan, this episode promises to deliver even more thrilling action and jaw-dropping animation.
For international audiences, Crunchyroll will stream the episode just an hour after its Japanese broadcast. International viewers can catch the episode at 10 PM European Time, 7 PM Pacific Time, and 9 PM Central Time on August 12, 2023.
Fans of One Piece are eagerly anticipating One Piece Episode 1072 to be a "Sakuga" Episode, rumored to surpass even the outstanding animations of episodes 1015, 1071, and 1062. The term "Sakuga" refers to episodes known for their exceptionally high-quality animation, showcasing fluid and captivating action sequences.
Adding to the excitement, legendary One Piece director Megumi Ishitani is rumored to return for Episode 1072 in some capacity. Her involvement has heightened expectations for this episode, with fans eagerly anticipating what she has in store for them.
A source named Boji has confirmed Ishitani's participation, expressing that this episode will be unforgettable regardless of her role as Episode Director or Storyboarder. The anticipation for the wonder that lies ahead has reached its peak.
Moreover, One Piece animator Ishizuka shared insights, revealing that talented individuals will be contributing to the Gear 5 scenes, continuing across several episodes. Fans are eagerly looking forward to this upcoming visual spectacle.
One Piece Episode 1072 Preview
As the countdown to One Piece Episode 1072 continues, a preview has been released, fueling fans' excitement. Acclaimed animator MASAMI MORI, along with other talented animators, is working on the upcoming episode, promising an animation spectacle that will leave audiences in awe.

Conclusion
One Piece Episode 1071 was one for the ages, with fans loving Luffy's new look and joyful character. His power and strength are off the charts, giving him the chance to defeat Kaido. While there were mixed reactions about the animation style, overall, people seemed to enjoy it. There are rumors that the next episode will have sakuga animation, similar to the fight between Zoro and King.
Stay tuned with Anime Alert for more updates on "One Piece" and the latest news in the anime world. Mark your calendars for the release of Episode 1072, as it promises to be an unforgettable experience for fans worldwide. Get ready to embark on another unforgettable journey with Luffy and the Straw Hat crew!